EDAG CITYBOT: THE FUTURE OF MOBILITY
Just imagine that you live in a city characterised by urban living, work and experience oases. Where you can move forward at any time effortlessly without being stuck in a traffic jam. Where parking spaces and car parks have given way to community hubs and new types of meeting places. Where smog and traffic noise have become a thing of the past and urban cleaning and maintenance work is carried out autonomously in times of low traffic without being a nuisance to residents.
Do you think that such a thing does not exist except in science fiction?
The EDAG CityBot special characteristics
The EDAG CityBot ecosystem is the first and only mobility and transport system to effectively counter inner-city traffic gridlock.
Efficient, sustainable
and profitable
Efficient (24/7) and sustainable use of the traction modules without peak and off-peak problems, with simple, fully automated module change and fuel cell drive.
Operating system
for the smart city
On the basis of a common interface (API) and a data security and payment system, the EDAG CityBots, the entire IoT infrastructure, along with apps for future services, are combined in a complete and scalable operating system
Over 50 years´
experience
EDAG has over 50 years' experience in vehicle, production plant and electrics/electronics development.
EDAG CityBot – a complete ecosystem for local public transport.
Today's cities are characterised by high traffic density and congestion, emissions that pollute the local environment, very high noise levels and inefficient public transport. The EDAG CityBot is a fully integrated solution to these mobility challenges, and represents a thoroughly thought-out ecosystem.
This makes it the first and only mobility system to effectively counteract traffic gridlock.
The EDAG CityBot is a multi-functional, fully autonomous robot vehicle with swarm intelligence, which is completely emission-free.
Thanks to its modularity and multi-functionality, the EDAG CityBot can be operated around the clock, and there are numerous utility modules that can be fitted to configure it to meet requirements: for use as a passenger cell for instance, or as a cargo carrier, or a device for city cleaning, waste disposal or park maintenance, while at the same time achieving maximum ecological and economic efficiency through continuous utilisation. The EDAG CityBots move comparatively slowly though steadily, making them extremely energy-efficient, and they have an emission-free fuel cell drive.
EDAG CityBots are an integral part of a complete smart city operating system.
In conjunction with the platform technology for the Internet of Things (IoT), the EDAG CityBot offers not only new, autonomous transport and working vehicles, but also possible new business models. These originate in the entire system on the one hand, but also through the individual utility modules which, for example, are automatically paid for their work assignments.
A complete and scalable operating system based on a common interface (API) combines data security, the payment system, the IoT infrastructure, apps and the routing of the EDAG CityBots.
Route planning for the EDAG CityBots is handled by traffic flow software that coordinates all of the robot vehicles' movements, and this guarantees that the system remains free of congestion. As a result, all traffic is in constant flow and in the city of the future, traffic lights and holdups will be a thing of the past.
The EDAG CityBot is the city dweller's best friend, and also contributes substantially to making the city of the future clean, safe, worth living in, friendly, quiet and smart.
To implement this ecosystem, a city will have to define a specific inner-city area for the operation of the EDAG CityBots. There are no provisions for any type of individual or private vehicles other than bicycles. Cyclists and pedestrians will always have the right of way in this area.
As a result, the city will be free of individual traffic and therefore free of parked vehicles. The newly acquired roadside parking spaces can be converted into cycle paths, and the car parks that will then be empty can be turned into valuable living space and recreation areas. The EDAG CityBots will be produced, serviced and assembled in micro-factories in the car park basements. Mobility hubs – locations providing an operations centre for the organisation of the EDAG CityBots, but also, for instance, packing stations, co-working areas and other mobility services – will also be installed here.
The avatar plays a decisive role as an interface (HMI) between the EDAG CityBot and people. The head of the EDAG CityBot is the friendly contact point of the vehicles for people. It is able to speak, to hear, and to understand gestures, emotions and eye movement. In addition, sensors are integrated in the avatar, thus placing them in a higher position. EDAG CityBots could become the city dweller's "best buddy".
Who benefits from the EDAG CityBots?
The mobility system can be implemented in existing cities, and integrates both an existing rail transport network and the existing parking facilities and Park & Ride zones.
Ultimately, it will be city dwellers who benefit most: they will experience first-hand the way in which the use of the EDAG CityBots improves the quality of city life, as high-availability, congestion- and emission-free mobility becomes feasible.
In order to achieve this desired state, the EDAG CityBot ecosystem addresses all mobility actors in an inner-city mobility ecosystem:
OEMs, city planners, infrastructure organisations, traffic, waste disposal and transport companies, municipal facilities as well as logistics specialists.
Further, the EDAG CityBot ecosystem is also intended for industrial applications on private property. This could include use on an airport apron or on the premises of an industrial plant. Anywhere where precise processes, cycles and an optimised flow of goods can help to increase efficiency and reduce emissions.
THE EDAG CITYBOT ECOSYSTEM
The whole is greater than the sum of its parts:
the EDAG CityBot ecosystem involves all the necessary participants in its development, implementation, operation and use. This means that it could be a game changer in the city of the future.
Thanks to its modularity and multi-functionality, the EDAG CityBot can be operated around the clock and, according to requirements, configured as a passenger cell, cargo carrier or city cleaning device by fitting add-on modules.
An intelligent alternative to individual transport, and one that makes clever use of autonomous driving for various applications in urban mobility.
EDAG CityBot functions – an extract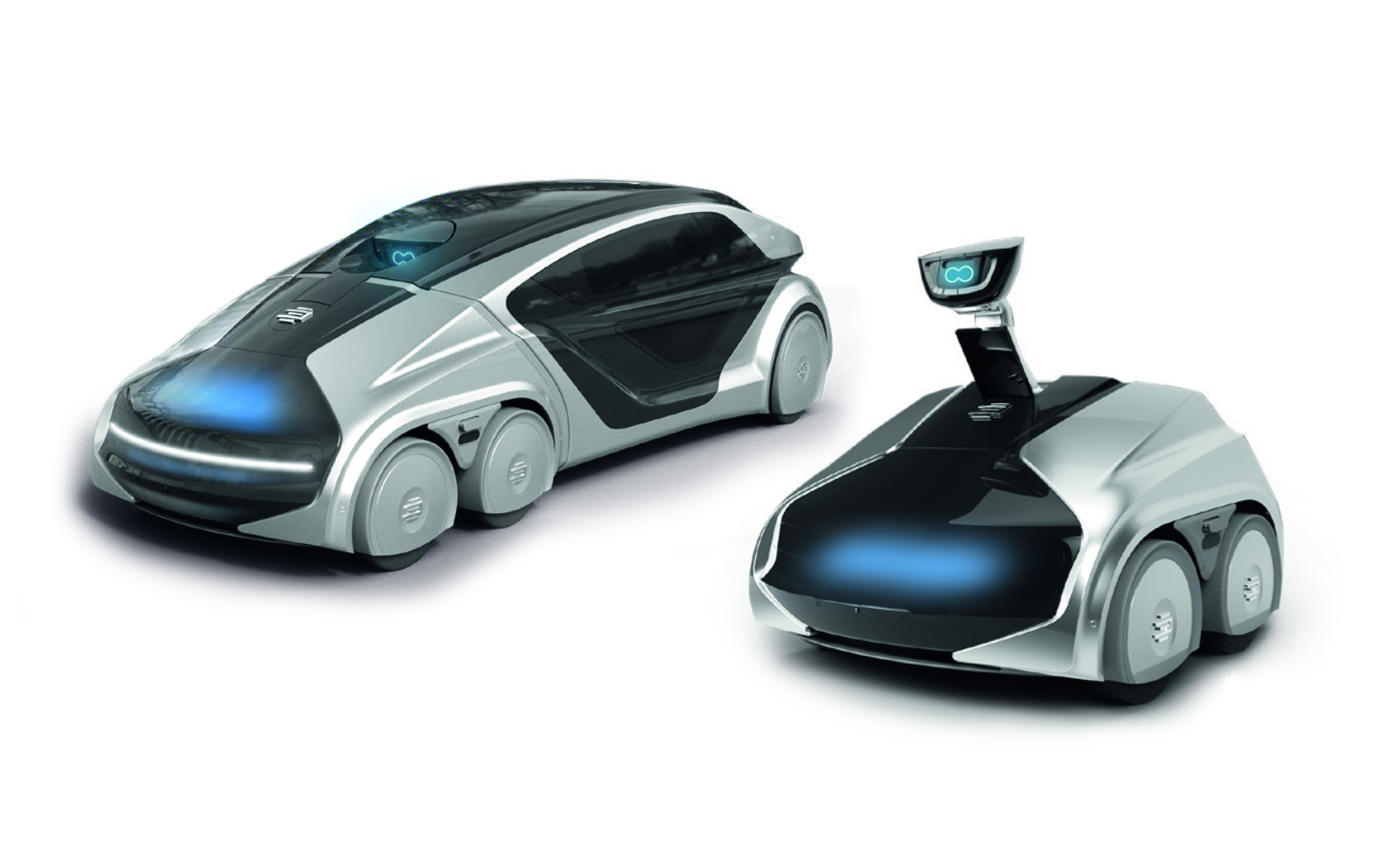 Patent-pending avatar with integrated sensor set for autonomous driving and working powertrain. Also acts as an emotional communication point with people, can hear, speak, nod, understand gestures and show emotions by means of eye movement.
Patent-pending coupling system serve as a robust mechanical connection with the modules. This ensures data transmission, HV power supply and optional connections with additional hydrogen tanks.
Fuel cell for the CityBot-specific energy requirements in 24/7 operation. Refuelling with hydrogen at smart city service stations takes just three minutes. If hydrogen is produced from regenerative energy, this makes a very small CO2 footprint possible.
Four electric wheel hub motors with up to 24 KW power per wheel for an economical power unit with the expected operational profile in the smart city's fully controlled and networked traffic.
Data communication for the constant exchange of all data relevant to operation and the environment. This permits optimal traffic flow and resource planning, including necessary payments.
Frame and chassis components manufactured for maximum integration of functions and just-in-time provision in production and maintenance.
All-wheel steering with integrated wheel hub motors and height-adjustable chassis. This enables the EDAG CityBot to drive sideways and support the gesture functions developed by EDAG psychologists.
24 HOURS WITH THE EDAG CITYBOT
The Park Maintenance Hero



In conjunction with the platform technology for the Internet of Things and, for example, the digital micro-payment solutions of EDAG partner IOTA, the EDAG CityBot offers not only new, autonomous transport and working vehicles, but also possible new business models.
Everything at a glance and a few more insights:
We have compiled a whitepaper for you that summarises the most important facts about the EDAG CityBot in one document.
Click here for the free download.
Download PDF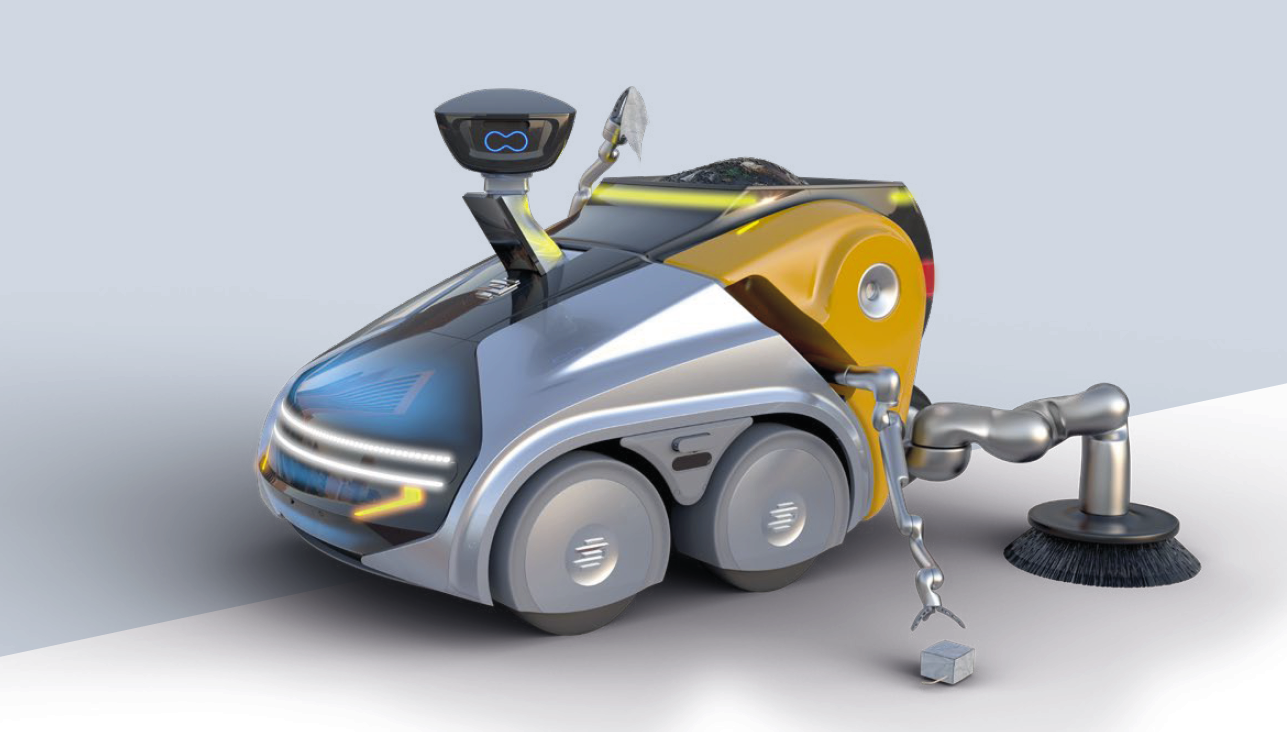 LET'S TALK!
Where can the EDAG CityBot make a meaningful contribution for you? Contact us and let us develop further UseCases together.
JOIN US!
As EDAG has over 50 technical departments, you have a good chance of finding the right job for you, one in which you can achieve more.
STRONGER TOGETHER!
Are you mastering logistical challenges and wanting to raise your business model to a new level through intelligent networking?